In Matousou, we have a white wine called "Yufu no Nemuri (Sleep of Yufu)", made using the grapes grown in our own vineyard. We also have a red wine,
"Yufu no Mezame (Awakening of Yufu)", from the same winery and a rosé made in Ajimu (Oita prefecture).
All wines are carefully selected by the owner for your pleasure. We have 3 local wines prepared to serve our guests. All of them are popularand are frequently sold out.
Please enjoy these local wines with our delicious meals made from local produce.
Introduction to our wine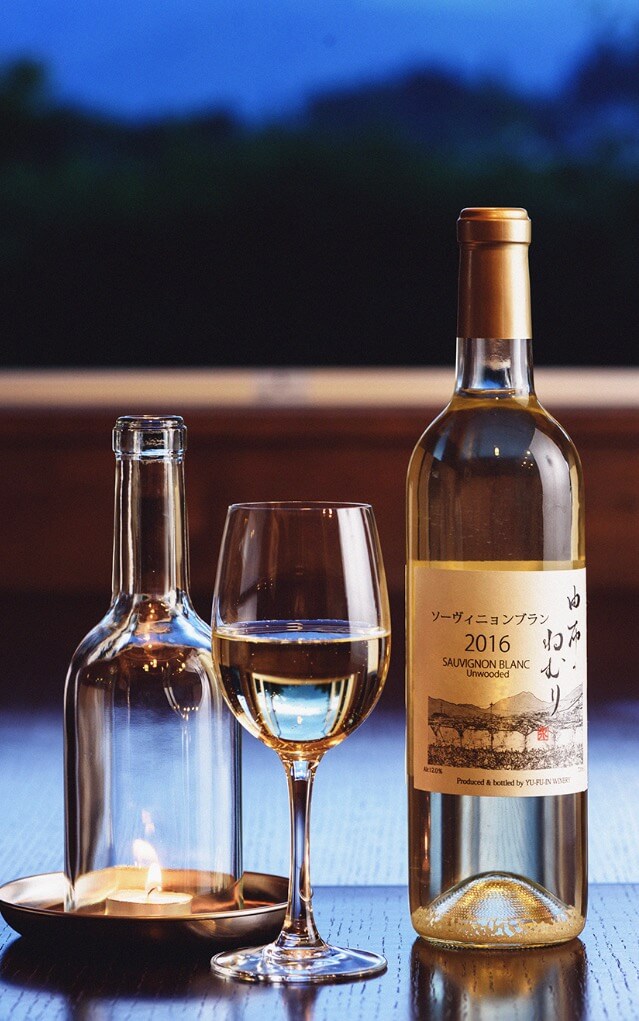 Jiyukan's original wine is made from Sauvignon Blanc grapes,
which is the main grape for producing white wine in the Bordeaux
and Loire River Basin regions in the south-west of France.
We produce our grapes with utmost care and are dedicated to using
minimal amounts of agricultural chemicals.

It has a balanced raciness and a refreshing smell like grapefruit creating
an elegant wine which goes well with any food. Every year around October,
we produce a limited batch of 200 bottles for local sale.
Because of the popular wine, it may have been sold out
at the time of the accommodation.

This wine, made in the same winery as "Yufu no Nemuri",is a red which is made from Sangiovese wine grapes.
It has a refreshing smell and has a mildly tannic aftertaste.
It is dry but easy to drink. The crafting of this wine isall done by hand and its production is strictly limited.

This rosé is produced in Ajimu winery, located in a bountiful wine production area. It has a scent of fresh fruit and a hint of sweetness.
It is crafted using Muscat Bailey A's Saignee and fermented at low temperatures. It is then blended with a Delaware liquor.